TORCA is thrilled to team up with Sandra Walter, pro rider and an amazing group of youth leaders for Girls' Ride Club 2021!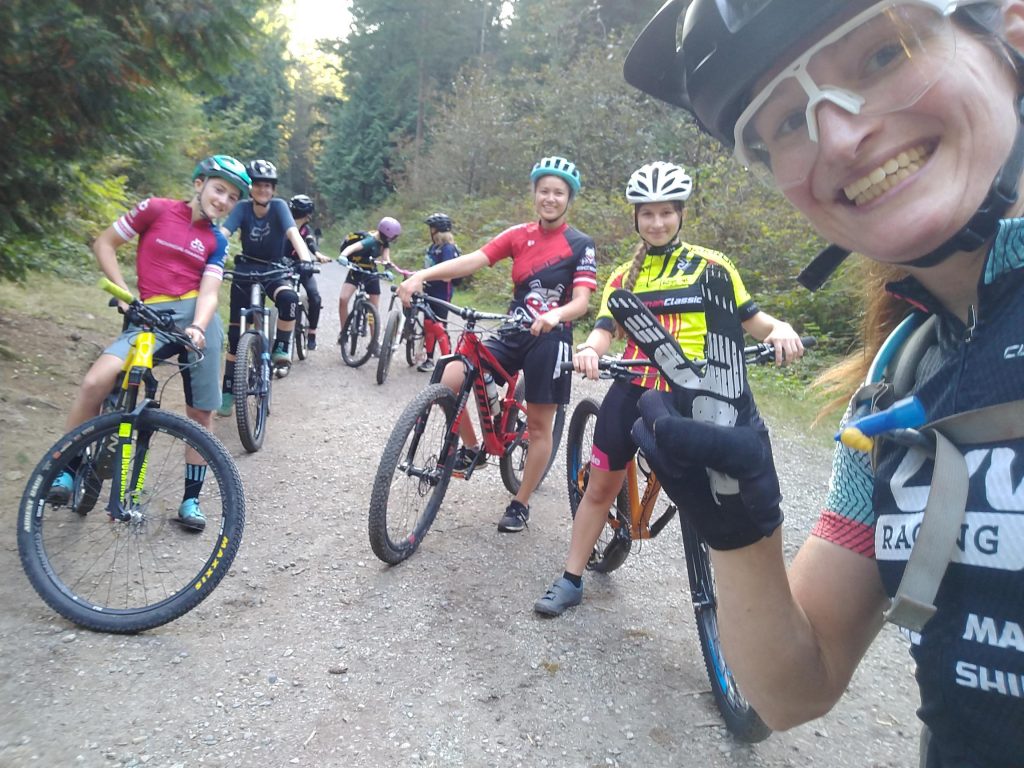 MORE GIRLS ON BIKES! Girls' Ride Club gets girls and young women mountain biking together in a fun and social environment using a group ride format. We offer female riders 13-18 a safe space to gain confidence, skills and fitness by inspiring and supporting one another. Based primarily in the fabulous Tri-Cities, this is a non-competitive program and will have an XC/Trail riding focus, which basically means we'll be riding up and down (gotta earn your turns)!
"Mountain biking is super-fun, whether you're riding alone or with friends, but some kind of magic happens when women ride together." – Sandra Walter, Girls' Ride Club Founder
About Sandra: Sandra Walter has been mountain biking for three decades and competes at the elite level for Liv Racing and Team Canada. She has a wide range of experience coaching children and adults. Sandra started coaching as a teenager, leading kids' mountain bike camps and leading Team BC's cycling squad at the 1999 BC Canada Summer Games. She has always felt an added motivation to encourage young women to discover the wonderful world of mountain biking. Sandra is also a Ride Like a Girl Mentor.
Expressions of interest: The April 2021 session of Girls' Ride Club is now full. If you are interested in being added to the waitlist and/or notified of future events, please email us at [email protected].
* If you would like to join a ride but are not in the age range, let us know that too! If there is enough interest we may look at doing a group for younger girls in the fall.

Registration: Pre-registration is required. Total group size will be limited to 10 riders and a COVID-19 safety protocol will be in place. Those who express interest will be sent registration information. A TORCA Liability Waiver will be required for insurance purposes; this will be completed at time of registration. TORCA Membership can also be purchased during registration (but is not mandatory).
Bring: Mountain bike in good working condition (minimum front suspension recommended), comfortable, weather-appropriate clothing, multi-tool, mini-pump, spare tube that fits your bike, tire levers, snack, water and a mask. Rider should be able to carry all of these items with them on the ride (we may not be returning to start/finish location until the end). If access to any of these items is an issue, please let us know and we will see what we can do to help!
Provided: Guided group rides. Two ride leads will be present for each session (at least one will have first aid training). NOTE: Sandra will be present for at least two of the rides per session, but the other two will be led by youth leads!
2021 Dates and Ride locations
Novice/intermediate (Mondays, 3:30pm – 5:30pm)
April 5 – Riverview Forest, Coquitlam
April 12 – Bert Flinn Park, Port Moody
April 19 – Bert Flinn Park, Port Moody
April 26 – Burke Mountain, Coquitlam
Advanced (Fridays, 3:30pm – 5:30pm)
April 9 – Bert Flinn Park/Eagle Mountain, Port Moody
April 16 – Eagle Mountain, Port Moody
April 23 – Burke Mountain, Coquitlam
April 30 – Burke Mountain, Coquitlam
If COVID travel for sport rules ease, April 19 and 23 will likely be moved to Thornhill, Maple Ridge and April 26 and 30 on the North Shore. We'll make amendments to info/plans as needed.