A quick review – 2023 Dave's Wheelbarrow
I recently had a bit of a different mission in the forest – transporting fifty beefy cedar slats 400m from the car to the site of a future build. Although I could have accomplished this in 8 or 9 laps with my Sight and an oversized pack, I thought this would be a good opportunity to try out something a little more suited to the task.
A Slack message and a couple of texts later, the distributor dropped a Wheelbarrow off at the trailhead and my first ever testing and review was underway.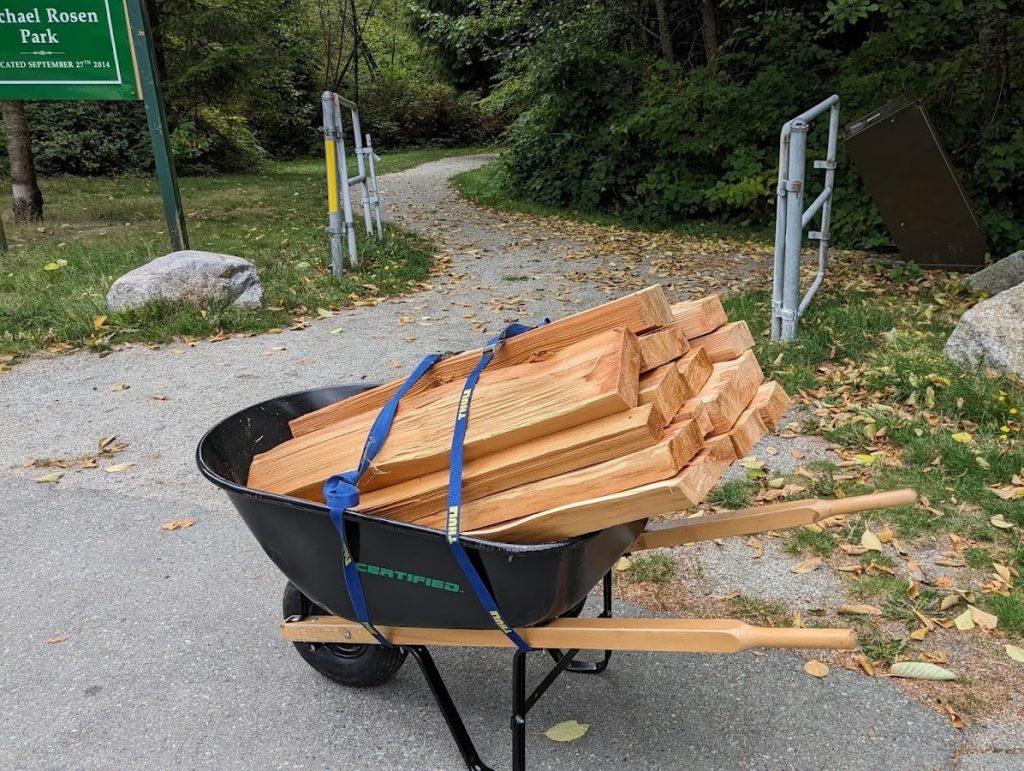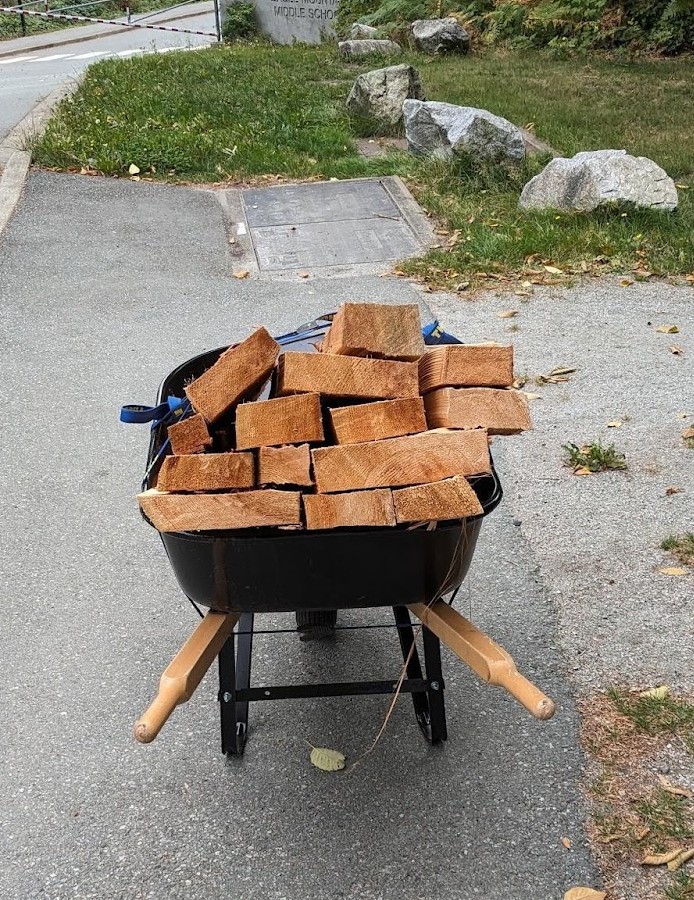 Dave's Wheelbarrow is somewhat of a boutique product. You won't find this in any of the local bike shops along with the usual array of enduro sleds, but if it weren't for products like this, those enduro sleds would have fewer places to ride.
The Wheelbarrow was my first experience with a fully rigid singlespeed. The frame appears to be light aluminum but don't let the weight fool you – this thing has more than enough strength to take the loads I threw at it over the 3 laps to the bridge site. The tire is a radical departure from the 650/29 world we live in with the manufacturer going with about a 12" fat bike tire up front. The bars are wood which was seemingly bizarre in today's landscape of carbon and aluminum, but they are oversized and sufficiently stiff to provide confidence. The one niggle here is that the bars ship without any grips. Fortunately, I had an old pair of work gloves with a rubberized surface on me that paired up nicely with the bars and allowed me to modulate speed and direction mostly without incident (more on this later).
Initial setup was a breeze. There aren't any suspension dials or pressures to worry about. Tire pressure was set adequately by the distributor, so I was able to simply load and drop in.
Interestingly, Dave ships this product without brakes or drivetrain. This helps explain how the product can retail for about the same as a Walmart bike but with much better durability and reliability.
I had an old drivetrain from the 60's which saw its last major upgrade at the end of puberty in the 80's, and despite its age, it hooked up well to the Wheelbarrow and provided the go and stop to get the job done. I noted the next day that after three laps the drivetrain needed some lubrication and maintenance, but I can't think that is a function of what Dave delivered and instead is just a function of a drivetrain sorely in need of some upgrading.
In terms of overall looks, I must say the Wheelbarrow is a true conversation starter. I've never had as many people stopping me to chat as on my runs with the Wheelbarrow. I don't think it's as pretty as my Sight, but the unique look on the trail sure did seem to turn heads.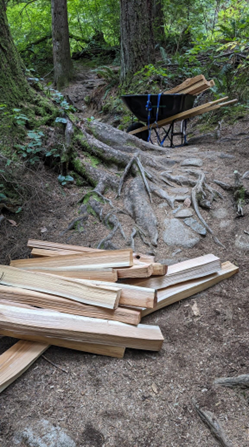 On The Trail:
The Wheelbarrow's small front tire is tucked under the front end giving the Wheelbarrow a much shorter wheelbase and steeper head tube angle than I've seen in a while. This resulted in very responsive steering which was great because the downside of this geometry is that it initially tended to hang up easily over roots (which isn't surprising given that it is fully rigid). Once up to speed, however, the Wheelbarrow was able to pop over the roots and trail chunder with aplomb, although I did find on the return trips when unweighted, the front end was deflected off line easily. To get along with the Wheelbarrow, you really need to pick your line and fortunately that responsive steering and tucked front wheel allowed me to quickly learn effective line choice and wheel placement.
Climbing:
The route to the bridge has a technical, chunky start to the climb. One my first lap (when the wheelbarrow was the most weighted), I didn't have sufficient speed to pop over the chunder and stalled out. Taking another run at it allowed me to get further, but again momentum stalled and I had my first and only crash. Perhaps a stronger rider with a more modern drivetrain may have had more success, but I couldn't help but think that a bigger wheel or even 30mm of front suspension and I wouldn't have had to reload. That being said, I've seen many a rider stall out on this pitch on bigger wheeled fully sprung bikes.
Once over that initial push, however, the rest of the climb was uneventful and again, the nimble steering and short wheelbase allowed me to pick smoother, cleaner lines than I am able to hit on my XL Sight.
On subsequent laps, I took advantage of the responsive steering and nose-wheelied around to back up over the root that took me out (a move I've never been able to pull off on my Sight). This maneuver, I should note, only works with drivetrains like mine (or Semenuk's at Rampage) that keep the power on regardless of which direction the legs are moving.
Descending:
From the first moment I tipped in to the trail I could feel the Wheelbarrow wanting to run and run fast. On the descents it really came alive and the obstacles on the trail that required a surgical approach to ascending lost all significance on the descent. Point this thing in the general direction and gravity happily takes you down the trail… so much, in fact, that I was finding the limits of the braking of my old drivetrain (and my gratitude for the grip my gloves were giving me on the bars). Adding a cheap, two piston brake with a 160mm rotor up front would have allowed for a more composed, but less fun and adventurous descent.
When unweighted, it lost some of its enduro-sled "plow over anything" manners, but it got down the hill equally fast and without issue.
Overall:
So, would I trade in my Sight for a Dave's Wheelbarrow? No. Not a hope – but not because the Wheelbarrow wasn't exceptional for the task. My Sight is as close to a quiver killer as I've ever found. The Wheelbarrow is a very, very specialized case and the very thought, for instance, of taking it down the Creekside Zone at Whistler seems almost ludicrous.
Would, however, I rather do 7 laps on my Sight to deliver the slats? Heck no.
Overall, if I had the space at home for an N+1, I'd add a Wheelbarrow to get the job done more quickly so I could have more time to get out on my Sight – which I believe is the intended use case for this specialized trail weapon.
Availability:
Due to limited distributor inventory, TORCA is unfortunately unable to arrange for a Dave's Wheelbarrow public demo event. We do, however, have a fleet of shovels, rakes, mattocks, and buckets to try. Watch for upcoming free demo opportunities with snacks and prizes as we are resuming our trail days soon.
Reviewer: Wes Sawchuk