Date/Time
Date(s) - October 29, 2021
4:00 pm - 5:30 pm
Intermediate youth group ride (Halloween edition)!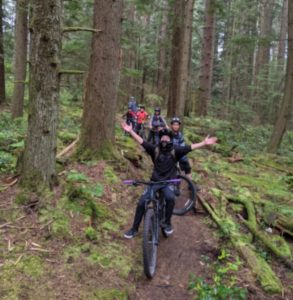 Join us on another TORCA youth ride for Intermediate riders. The ride will be hosted by TORCA Directors Gabor Huszar and Theresa McElroy. We will meet at the Yellow Gate to Bert Flinn by the roundabout of David Ave and Heritage Mountain Blvd. We will focus on blue trails, e.g. Home Run, Jo-Jo Finn's, Starz 2.
The ride will be limited to 10 youth on a first come basis. Please register below. Costumes are optional!
REGISTRATION
All youth who wish to join MUST be registered and have a waiver signed by a guardian. Please ensure the waiver is completed in the youth's name (parent signature at the bottom).
COVID SAFETY PLAN
Please review the TORCA COVID Safety Plan and BC Daily Health Check.
Note: parent/guardian must acknowledge that these have been read when registering.
WHAT TO BRING
Mountain bike in good condition (front suspension recommended), appropriate clothes for the weather, water, snack, MASK (for waiting at meet up or if we stop to session features).
If you have registered but cannot attend the ride, please cancel your registration online or email us at [email protected] so we can offer the space to someone else or aren't waiting for anybody at checkin.
Registration
This event is fully booked.