2020 Annual General Meeting (online)
Wednesday, November 18, 2020 @ 6:30 pm

-

8:30 pm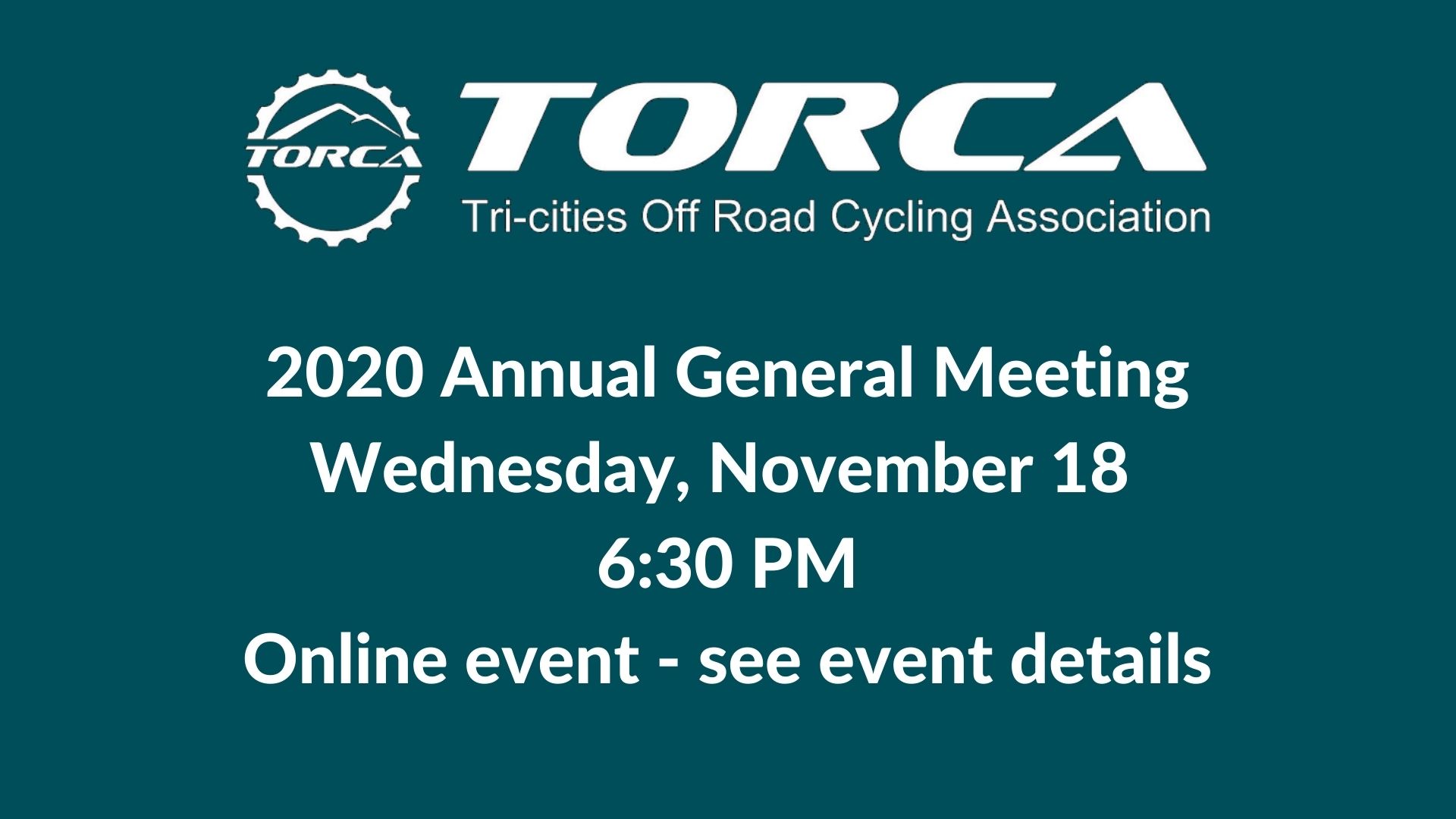 Please join us on Wednesday November 18 at 6:30 pm for TORCA's virtual Annual General Meeting.
We will be hosting the meeting virtually – the link is in the event details. To connect you will have to use Chrome, Firefox, Safari or the Google Meet app for Android or iPhone. While the meeting won't be on until just before 6:30 PM on Nov 18th please try to connect to Google Meet prior to it, to ensure you can join when it's time.
At the meeting, we will present our accomplishments from the past year and discuss our direction for 2021. We'll also review our financial statements,and hold elections for the TORCA executive positions for the coming year. There will also be time for questions from the community.
Join the Executive Team! 
TORCA is a collaborative group of passionate mountain bikers and trail builders. We meet once per month to discuss the exciting future of mountain biking in the Tri-Cities. We are looking for passionate individuals to join us to help plan and run events, connect with the community and contribute to a positive future for mountain biking. If you want to be part of the TORCA executive team please let us know by emailing [email protected]. Any candidate interested in joining the board will be asked to briefly introduce themselves just prior to the election. If you can't commit to monthly meetings but still want to be involved, we could use your help in a committee or for various events (which we hopefully can hold again next year).
Voting
To be eligible to vote you need to be a registered TORCA member. You will receive an email to your TORCA registered email address 1-2 days prior to the AGM. It will contain a personalized link to the voting form. The link (voting form) itself will not be live until after all of the candidates have had a chance to introduce themselves during the AGM.
If you have registered multiple members (kids, partners) with the same email address you will receive one email for each registered member under your email address.
Please make sure that you do not forward this link as it will make your vote invalid.
If you have any questions or concerns about the voting process please contact [email protected].
You can verify your email address by logging into the member portal: https://tinyurl.com/yxoplgpp
We hope to see you on Wednesday, November 18th!